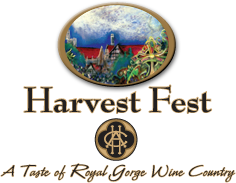 Cancelled due to COVID-19
Wine, artisans, food and entertainment come together the last weekend of September at the annual Harvest Festival on the grounds at the Winery at Holy Cross Abbey.
This is a wonderful way to spend a beautiful fall day. Discover our award-winning wines including the limited release of Harvest Fest's Riesling. Enjoy food selections from local produce and cheeses to wood fired pizzas, fajitas, roasted chilies and freshly baked breads.
There's something for everyone. Entertainment will include Mistura Bela (Brazilian Jazz), Deja Bluz Band (Rock), Inman Brothers Band (Southern Rock),  Hammerstadt Jazz Fusion, and a Fun Zone and face painting for kids. Come join us this fall for a truly unique experience.
                                                                                                   We love you furry dog friends, but please keep them at home for this event.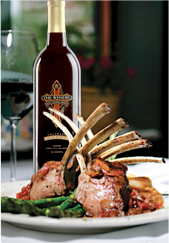 Wine Maker's Dinner- Cancelled due to COVID-19
The 2019 Winemaker's Dinner will be held at 6:30pm on Friday, September 27th at The Royal Gorge Bridge & Park's Café 1230, spectacularly situated 1,230 feet above the Arkansas River.
The dinner, set up as a progressive food and wine tour, will feature nine different courses of the innovative Colorado cuisine of Executive Chef Beau Green. Each course has been paired with a specially selected, award winning Abbey wine crafted by winemaker Jeff Stultz.
This is the 17th year for the dinner and the 5th year it has been held at the Royal Gorge. Chef Green and winery owner Larry Oddo decided to let the people vote on the menu items that have been served over the last four years. They selected two of the most popular items in each category after conducting an online survey. Many participated in the survey, and the menu is truly a "Peoples Choice".
Chef Green has maximized the use of Colorado produce, meats, fish, and cheeses in the creation of all his menus. Miso Trout, Black & Blue Bison Burger ,and the Cripsy Duck with Brown Butter Sage Gnocchi are all from Colorado. There are nine stations this year with two hors 'dourves passed at the entrance. All the wines being served are made primarily from Colorado grapes.
The cost of the dinner is $125 per person, inclusive of tax and gratuity. Reservations are required and can be made by calling the winery at 719-276-5191. Transportation is available to and from Cañon City.
Harvest Fest 2021
Schedule of Events
Saturday, September 25th – 10am – 6pm
10 am: Blessing of the Harvest-Fr. Jesse
10 am to 1:30 pm: Wayne Hammerstadt Jazz Fusion
11 am 4 pm: Simone FM Spinner, author
Denver Food: A Culinary Evolution
2 pm to 6 pm: Deja Bluz, Classic Rock
Sunday, September 26th – 10am – 5pm
10 am to 1 pm: Mistura Bela-Brazilian & Spanish Jazz
11 am to 4 pm: Simone FM Spinner, author
Denver Food: A Culinary Evolution
1:30 pm to 5 pm The Inman Brothers Band, Country Rock & Roll
Please … No Pets